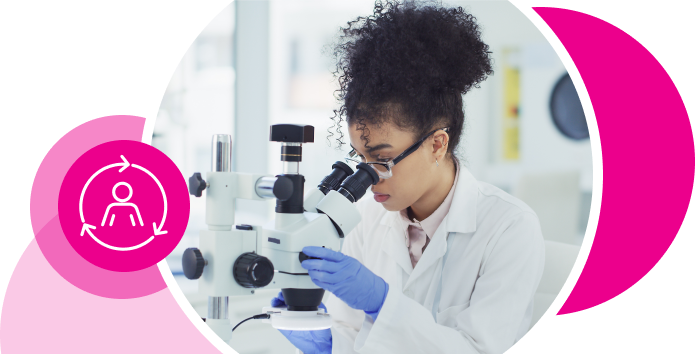 Drug Resistance
Research shows that a growing number of yeast species are developing resistance to fluconazole 3
Yeast species are less resistant to miconazole, the
active ingredient in MONISTAT®
4 facts about drug resistance in VVC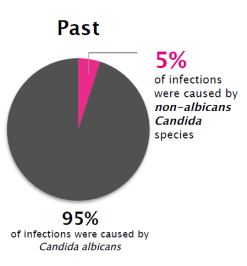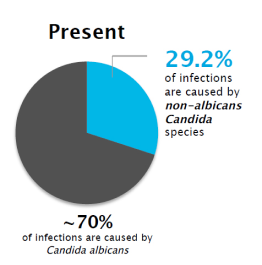 1

The prevalence off VVC caused by non-albicans Candida 3

The prevalence of VVC caused by non-albicans Candida has increased greatly-and these species are less susceptible to fluconazole18

Although Candida albicans is still the most common cause, non-albicans species now account for 30% of vaginal yeast infections. Many are resistant to commonly prescribed antifungal agents, making treatment more challenging.
2

Fluconazole resistance often begins in the gut

Oral fluconazole is systemic, and a significant amount of the drug remains in the GI tract. Repeated use reduces the C. albicans population in the gut, allowing resistant non-albicans species to thrive and reach the vagina.4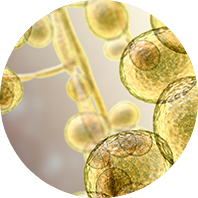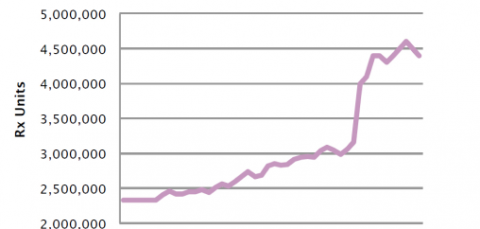 Source: IMS 2Q2016, IPSOS Survey August, 2016 
3

Fluconazole doses have increased dramatically

The number of fluconazole pills prescribed has more than doubled since 2005, and nearly 60% of patients get more than 1 fluconazole tablet initially.5 These dosing trends may be another indicator of growing resistance.
4

Optimal treatment for non-albicans VVC is not yet established

CDC Guidelines suggest a non-fluconazole azole for 7-14 days first-line2

The Guidelines also include recommendations for treating VVC in certain populations, including women who are pregnant, diabetic, or immunocompromised.

In a study looking at MIC90 trends from 1986 – 2007 for 250 C. albicans vaginal isolates3:
Miconazole: MIC90 unchanged (0.06 μg/mL)

Percent isolates with MIC90 ≥ 0.5 μg/mL increased from 2% to 9% during this period but since this is a topical agent and vaginal fluid levels exceed 10 μg/mL, resistance is unlikely to be an issue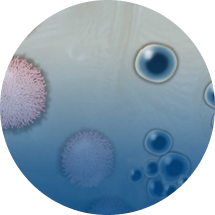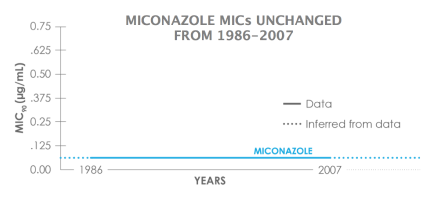 Evolution and selection of vaginal-colonizing Candida 3
Evolution and selection of vaginal-colonizing Candida Candida species with reduced susceptibility could play a critical early role in the development of antifungal resistance among C. albicans isolates responsible for refractory candidiasis.3
Fluconazole MIC90: 0.25 μg/mL → 0.5 μg/mL

Percent isolates with MIC90 ≥ 1 μg/mL and ≥ 2 μg/mL both increased from 3% to 9% over this period
While not a clinically significant MIC90 increase, the increase in isolates with elevated MIC90 may have clinical relevance given the achievable concentrations of fluconazole in vaginal fluid (maximum 2 μg/mL)
Fluconazole use has increased dramatically over time3
Routine use of prescription oral fluconazole may create an environment where non-albicans Candida, which are less susceptible to azoles, thrive and spread in the vagina.
Oral fluconazole achieves low tissue concentration at the site of infection while the rest remains in systemic circulation.
A significant amount of the drug remains in the GI tract, reducing C. albicans but allowing less-susceptible non-albicans species to grow.
These non-albicans species reach the vagina and are more likely to be resistant to fluconazole treatment.
Repeat systemic antifungal therapy perpetuates drug-resistant species.