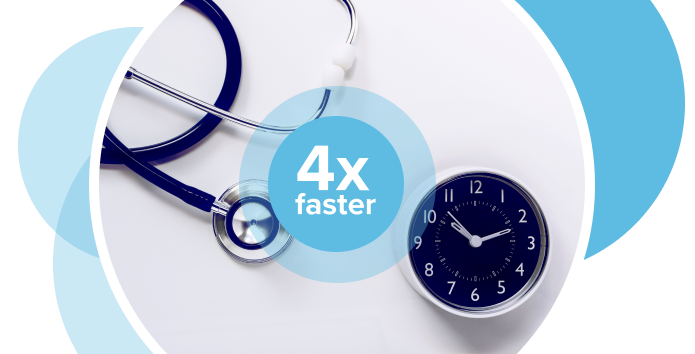 4x Faster Symptom Relief
MONISTAT® relieves VVC
symptoms 4x faster*
Authored by Gloria Bachmann, MD and Nancy Phillips, MD, the new ACCELERATE Abstract summarizes a study that compares time to symptomatic relief for DIFLUCAN® (fluconazole) and MONISTAT® (miconazole). In the vulvovaginal candidiasis (VVC) treatment category, fluconazole is recognized as the leading prescription pill, while MONISTAT® is the leading over-the-counter treatment.
Monistat® works at the site of the infection, curing VVC while relieving symptoms faster than fluconazole.1 Systemic fluconazole needs to be digested and absorbed into the bloodstream before it can begin to work.
In the randomized, double parallel group study, 300 women were treated with either MONISTAT® 1 Combination Pack or DIFLUCAN® (fluconazole) 150 mg. There was a statistically significant difference in time to onset of relief of itching, irritation, and overall symptoms between treatment groups.
In the clinical study with 300 patients, MONISTAT® relieved itching, burning, and irritation 4x faster than DIFLUCAN®

aKaplan-Meier analysis based on overall time event curves
*Based on a clinical study with MONISTAT® 1 Combination Pack Ovule® treatment vs the leading prescription product.